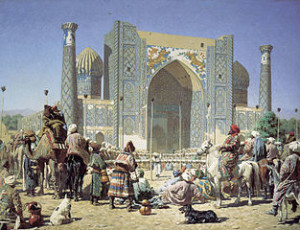 The Lost Empire that Ruled the Silk Road, Annalee Newitz, io9, April 15, 2014
Today, the city of Samarkand in Uzbekistan is relatively remote, known mostly for its magnificent medieval ruins. But over a millennium ago, it was one of the richest cities on the infamous trade route known as the Silk Road. Back in the 600s CE, that route was called simply "the road to Samarkand."

***

The term "Silk Road" was popularized by European explorers in the nineteenth century. German scientist Ferdinand von Richthofen coined the term in 1877, while attempting to follow its eroded pathways centuries after the world economy had come to rely on ocean shipping routes. Also, there is no evidence that anyone traveled along the entire route from Europe to China until Marco Polo wrote about his journey in the thirteenth century. (Polo probably wasn't the first traveler to do this, but his account popularized the idea and led to many more journeys.)

But for most people the Silk Road was just a local highway system. They used the routes to go from one city to another, and more rarely to cross the borders between empires.
Bill Russell, Boston Celtics Veteran, Sounds Off On Gay Athletes, Jim Vertuno, AP, April 10, 2014
NBA Hall of Famer Bill Russell said Wednesday that gay athletes' current fight for equality and acceptance reminds him of some of the same struggles black athletes faced in the 1960s. Continue reading →