Consider the cat.
Specifically, consider the cat's drive to kill.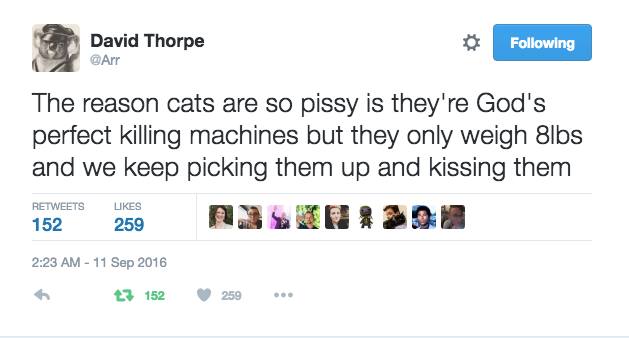 Now, consider this classic scene from Alien, but imagine that they're talking about Jones, the ship's cat, instead of the eight-foot-tall, acid-bleeding xenomorph:
Ash's monologue still fits, doesn't it?
Ash: You still don't understand what you're dealing with, do you? Purr-fect organism. Its structural purr-fection is matched only by its hostility.

Lambert: You admire it.

Ash: I admire its purr-ity. A survivor… unclouded by conscience, remorse, or delusions of morality.
Don't forget to feed your cat. It might just be waiting for that opportunity…
(h/t Alice for the inspiration)
UPDATE (09/14/2016): h/t to Jose for the purr-fect pun 😉