An article entitled "Ranking the 20 Hottest US Congress Women" seems problematic enough, but this was the thumbnail image for the sponsored link at Raw Story: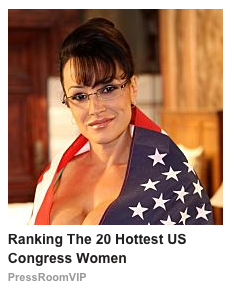 It's kind of hard to tell how tongue-in-cheek the article intends to be. Here is their entry for Nancy Pelosi, who ranks fourth on the list:
Nancy Pelosi is a powerful woman with many big achievements under her belt. Not only was she the first woman Speaker of the United States House of Representatives, but she also was the first woman party leader and the first woman party whip. To date, she is the highest-ranking female politician in American history. We love a woman who knows how to take control. Watch out for Pelosi!
Their #2 entry is Sarah Palin, who they admit is not a member of Congress. They gave the #1 spot to Michelle Bachmann, and I have nothing to say about that.
Back to the sponsored ad image, though. I'm sure the purpose of that was to get people's attention for an otherwise entirely forgettable listicle, and it worked. (You'll note that I'm using Do Not Link for the article itself, because screw them.) They used a picture of adult film star Lisa Ann, apparently from her portrayal of the former VP candidate and Alaska governor in a, well, if you haven't heard of the film, the whole concept was kinda gross, in my opinion. I guess you gotta do whatever you can to get web traffic these days (like, say, rant about misappropriation of porn star images in sponsored ads—although I guess I don't know that it was misappropriation.) Still, just ew.
That's the end of this curmudgeonly rant. Here's a picture of a dog failing at being a dog: