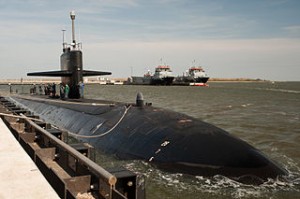 - The commander of a U.S. nuclear submarine reportedly tried to end an affair by faking his own death, specifically by sending the woman a fake e-mail saying he had been killed. She then showed up at his house to express condolences as a "friend," which kind of ruined the plan. I'm sorry, did I say "commander" of a nuclear submarine. That should say "former commander." You can probably connect the dots.
- A teenager in Phoenix had a habit of sitting in a tree while waiting for the object of his youthful crush to come home from school every day. Before you start thinking this is the premise for a quirky romantic comedy, when I said "sitting in a tree," I meant to say "sitting in a tree and masturbating." He got caught because, and I quote, he "missed his signal" that indicated she was approaching. Since he missed the signal, she caught a full view of him in flagrante delicto with himself. At this point, I don't want to make jokes anymore, because this (and I can't believe I still have to say this) is not cool. To drive home the point that this kid has not yet gotten the memo about respecting girls as equal members of humanity, the news story says:
He said he eventually stopped following the girl around because her mother confronted him, and Murray didn't want the girl's mother to think that he was stalking her daughter.

However, police allege that sitting in trees and waiting to watch a girl walk home qualifies as stalking.
Gee, ya think?
- A fraternity at Loyola University in Chicago tried to get around zoning restrictions by claiming, based on its mission statement "In the Service of God and Man," that it is a monastic order exempted from the zoning ordinance. As such, it argued, city officials violated its equal protection rights by denying it a permit. A federal judge disagreed, ruling that it is, in fact, a fraternity. I'm not sure if it's one of those party fraternities or a service fraternity, but either way, its members are not monks.
- An Asian-fusion restaurant in New York City refused to host a wedding rehearsal dinner for a same-sex couple because, and I am not making this up, "the owner's son said gay parties are bad for 'feng shui.'" The restaurant also fired the manager who booked the dinner. The couple is now suing the restaurant. I suppose the restaurant could argue that gay people have an irresistible urge to rearrange furniture, and that it has a constitutional right to manage its own feng shui. Maybe it could introduce old Queer Eye episodes into evidence.
Photo credit: "US Navy 110309-N-FG395-007 The Los Angeles-class attack submarine USS Pittsburgh (SSN 720) pulls into Naval Submarine Base Kings Bay a routine port" by U.S. Navy, photo by Mass Communication Specialist 1st Class James Kimber [Public domain], via Wikimedia Commons.