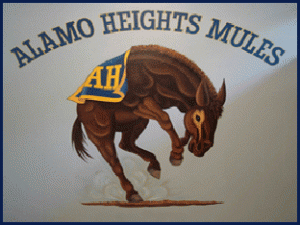 I am part of the Alamo Heights High School Class of 1993. It's a relatively small school in its own little school district a few miles north of downtown San Antonio, Texas. I got a great education there and had some amazing friends. Overall, I am very glad to have gone to school there, and to be from there. It opened up countless doors to opportunities many others have not had.
I was not always so happy, of course, while I actually went to school there. Alamo Heights is something of a bubble of wealth and privilege, where residents frequently appear in newspaper and magazine "Society" pages, and nearly everyone got a car on their 16th birthday. It is full of good people but it can brim with white racist bullcrap in a predominantly-Hispanic city.
There is very little overt racism, but anyone who actually understands racism knows that you do not have to physically harass or assault members of a different race to be racist. Racism is also not simply a matter of not liking members of another race. I have come to be a strong believer in the "privilege + power" definition, which holds that racism consists of both disdain for another race and the power to do something about it. I did not always understand that, but I am also a white male, so I have no experience whatsoever of what it is to be on the receiving end of racism, sexism, or pretty much any other kind of systemic oppression. All I can say for certain is that I get that I do not get it.
I had planned a more in-depth post to further explore issues like this. Really, the bottom line is that I do not have much of value to say about race, because I have no lived experience of it (same goes for gender, sexual orientation, even religion for most of my life). All I can really do is listen to others as they share their experiences, and reflect on what I may have done in the past and what I can do differently.
That is really all there is to say (by me) on the matter.
Of course, my high school had to go and spur me to action, so I'm writing this post off the cuff, without great deal of preparation. But this is not about my inconvenience. This is me confronting the racism of my hometown.
I'm a fairweather fan of Alamo Heights sports, in that I only tend to pay attention when they do well, and that's only because hey cool! My high school won something!
I was excited to learn that the Mules (yes, that's our mascot) basketball team has made it to the state finals tournament. That's the first time this has happened since 1991 (when I was a sophomore and recent basketball team dropout). Also, the new coach is a guy I went to high school with. It's the way the fans reacted to the latest big win that is (or should be) embarrassing to all of us.
Edison High School is only a few miles away from Alamo Heights, but it could be on a different planet. It is in a much less affluent part of town (although it does include one very well-to-do area), and the students are mostly Hispanic. When the Mules beat them the other night, securing a place in the state tournament, well, here's what happened:
A local school district is apologizing after an apparent incident of racism at a boys high school basketball game this past weekend.

When the final whistle blew Saturday, Alamo Heights celebrated a convincing victory over San Antonio Edison.

Alamo Heights Head Coach Andrew Brewer said he was proud of his team.

"Tremendously proud," Brewer said. "Tremendously. It's the best group of kids."

But it was just after the trophy presentation when the coach was not proud of the chant coming from Alamo Heights fans.

"USA, USA, USA," they chanted.

San Antonio Independent School District officials took the chant as a racial insult to a school with all minority players from a school with mostly white ones.
I can already anticipate the reactions from Alamo Heights students and parents: something to the effect that the kids didn't mean anything racist by it, that they were just celebrating, that it never occurred to them that this would be offensive, and that Edison's players and others are being too sensitive. I feel fairly confident that the response (i.e. excuses) will fall into one of those areas.
The first thing to understand, drawing from the racism definition above, is that white people don't get to decide when someone else should be offended. Second, if it did not occur to people that a predominantly-Hispanic group would be offended by predominantly white, affluent, mostly-Republican students chanting "USA," then there is a problem, but the problem is not occurring in the Edison neighborhood. Alamo Heights has an image problem, and it has since long before I was a student there. This is Exhibit "A" as to why.
According to KSAT News, the students who have been identified as participating in the chant have to apologize to Edison and are banned from the remaining playoff games. If that seems harsh, keep in mind that kids in Alamo Heights tend to get whatever they want. Call it tough love.
UPDATE, March 6, 2012: Edison's school district administration has filed a complaint with the University Interscholastic League:
The San Antonio Independent School District filed a complaint with the UIL on Tuesday regarding a chant by Alamo Heights students after a boys basketball game against Edison High School on Saturday.

***

SAISD athletic director Gil Garza filed the complaint with the University Interscholastic League, the governing body for Texas public schools. It was the second year in a row that a complaint about racially motivated chants was filed after the Region IV-4A basketball tournament.

A similar incident occurred last year in a game between Cedar Park and Lanier high schools.

"A bunch of kids made a poor decision, but we can't ignore it," Garza said. "Our community is fed up."