I am a bit too angry to see straight, but need to share the utter, reprehensible ridiculousness of this: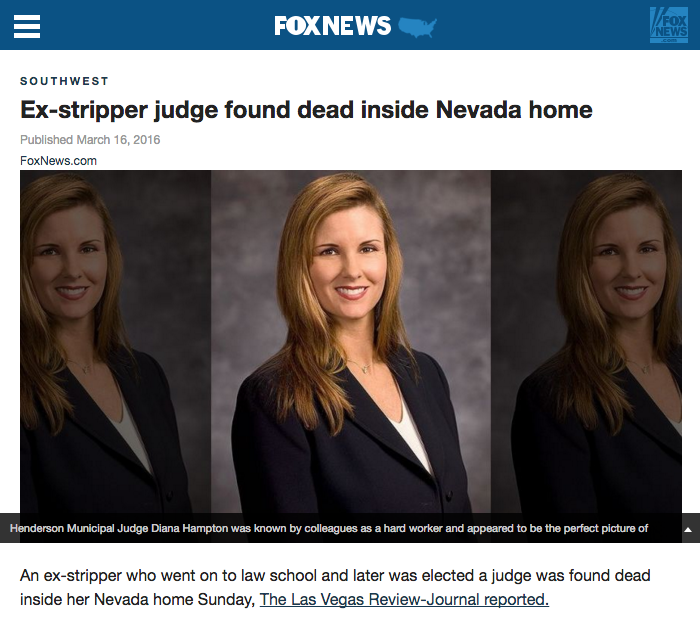 An ex-stripper who went on to law school and later was elected a judge was found dead inside her Nevada home Sunday, The Las Vegas Review-Journal reported.

Her body was discovered during a welfare check, the report said, and authorities do not suspect foul play.

Municipal Judge Diana Hampton, who was 50, was known by colleagues as a hard worker and appeared to be the perfect picture of health. Her death shocked colleagues, one of whom told the paper he planned to have lunch with the judge this week.

Hampton, who served as a municipal judge for more than a decade, worked with youth in the community to discourage them from crime.

Hampton took an unusual route to her judgeship. She was criticized during her 2005 run for Henderson Department 3 for working as a stripper in Las Vegas prior to pursuing law school. It was a part of her past she did not disavow and reaffirmed that her past had nothing to do with how she would rule from the bench.

"From the very beginning, she decided she was going to be a judge," said Joe Sciscento, a justice of the peace who knew Hampton for more than 20 years. "She was dedicated to that. She was focused on that, and she wouldn't let things get in her way."
[Emphasis added]
No matter what she might have accomplished in her life, no matter how much good she might have done, some people just can't resist the siren call of shaming women.
At least (and I mean that literally), the Fox News reporter thought to mention the judge's work with children, and other aspects of her judicial career, before dredging up her utterly irrelevant past.
The article cited by Fox News, in the Las Vegas Review-Journal, did better, though, at least leaving that detail out of the fucking headline.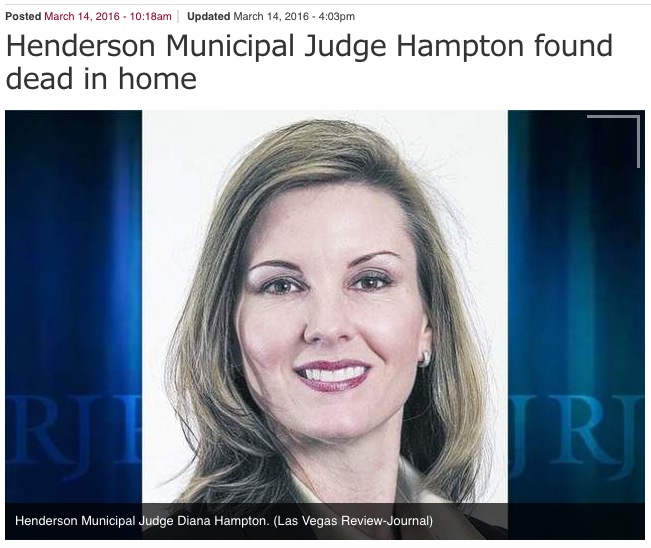 Hampton served as a municipal judge for over a decade. Prior to that, she was a deputy city attorney for Henderson where she prosecuted drunken driving and domestic battery cases, according to her biography on the city's website.

In 2010, the judge brought the "Life of Crime" program to Henderson. The program is aimed at discouraging youth from lives of crime and showing them what being behind bars is like by talking to police officers and current inmates.

Hampton's background came under scrutiny in 2005 during her first election running for Henderson Department 3 when it was revealed she worked as a stripper in Las Vegas for a year before going to law school.

Hampton never shied away from the fact, saying her past didn't affect her abilities as a lawyer or judge.

Fumo said that she called him, concerned that it might be an issue when she was running for judge, and he encouraged her to "embrace it."

Despite the minor controversy, Hampton won the 2005 election, and was re-elected in 2011. The judge would have been up for re-election in 2017.
Even the Daily Mail somehow managed to do slightly better than Fox News: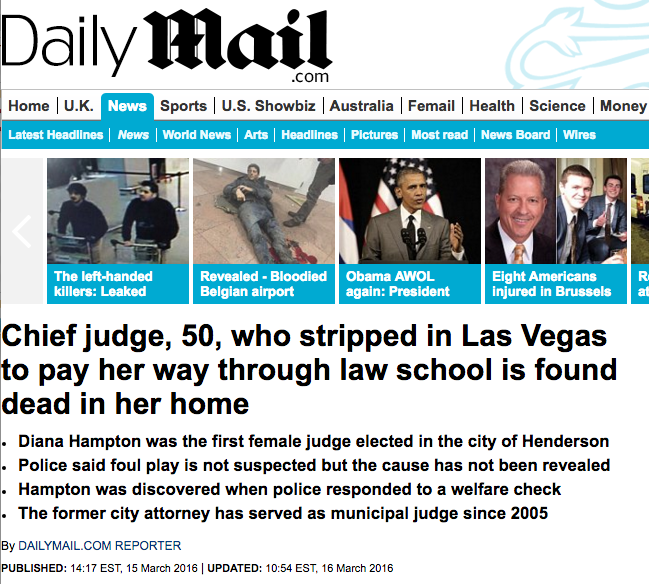 I can't manage much commentary at the moment, but I hope it's obvious why there is something profoundly wrong with what Fox News did here.